Feb 29, 2008: happy birthday, ronnie!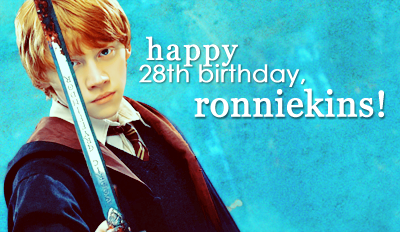 it's ron's birthday! yay!
and that means, it's party time here at HMS. this month is all about ron; weasley-mania takes over! to honor everybody's favorite redhead, i dug up every single image i had on my hard drive of ron by himself, or rupert by himself, and have now uploaded it to the gallery (that means, of all 6 movies, plus public events and such, AND rupert's other cinematic projects). i also went looking for some great ron videos and slideshows, and have uploaded a bunch of other ron goodies for you all, like avatars/icons, headers, and even a wallpaper. to round things up, i put it all together in one single page completely devoted to the youngest weasley boy— so if you're a fan (and i know you all are!) go ahead and check it out! the page will only stay up until the end of march. because march equals ron madness here at HMS
as a bonus, we have new featured pic & vid— both starring ronald himself, of course. go take a look!
i added one video to the video recs page, and i'd really like it if you could take a look at it, because i made it myself

it's a trio video, of course, to the song "everything's magic" by angels & airwaves. the music is really upbeat and there's a bunch of effects in it that you might think are cool. please do comment if you watch it.
and last but not least, if you like this page, how about voting for it at one of the "top pages" sites we have listed on the menu to the left? or, if you really want to help, you could click on our sponsor's banners— every click matters, and it would help us tremendously.
in the future i'll be working on stocking the "fan creations" section of the gallery, as well as uploading a bunch more images, not only of ron, but of the trio in general. i was thinking, should i put up a forum? i'd guessed that was what the LJ community was for, but i guess not everybody has an LJ… well, anyway, if you have any comments, suggestions, or would like to help me in anyway, you know what to do! just leave a message in the tagboard or write me an email